Okay, okay. I realize that not 2 weeks into my new idea I miss a Friday. But! I was up at my camp, sans electricity (so lovely) so, there.
;)



Camp!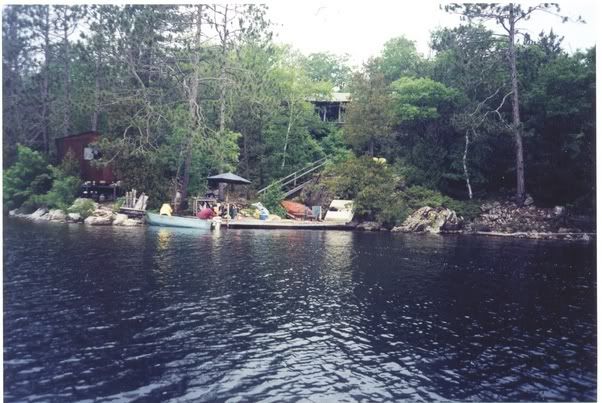 Not like this is a new thing, but hot damn do I love my camp. And yes, it is "camp". It's a northern Ontario thing, okay? No matter how many people I confuse, I refuse to ever refer to it as my cottage.
I adore how secluded it is. It's the closest thing to paradise I've been to. The swimming is the best in the world, it's so relaxing and it just has so many lovely family memories tied to it.
There's also one thing I really love about it..it never fails to give me a new, refreshed outlook on things. I guess it's because I'm mostly up there in the summer, usually right before school started. To me, the year doesn't really start anew in January, it's in September. Being so scholastically inclined it's just a natural way for me to organize time. And because I've always loved the whole "back to school" experience (especially the shopping!) being at camp right before school starting, it was natural for me to consider the coming year - what I hoped to accomplish, what my goals were either scholastically or otherwise, even as simple as what I was going to buy to wear. Any revamping to my style is always done for September, it just seems like such a good jumping off point (fall clothes are the best!).
Anyways, just a little gushing about a past, present and furure favourite of mine :)

This book!!



The other day I was out window shopping with a friend from work and we stopped in at a trendy children's store in my neighbourhood. It had gorgeous toys, with not-so-gorgeous pricetags ($50 for a stuffed animal?! but it will just get wrecked!!). But I digress.
I found this fantastic book and fell in love. I promised myself that when I get a job teaching that's going to be my first purchase for my teacher library. My kids will be most well-spoken in the school!
The book opens with a drawing of an ugly monster, whose name is AIN'T. And he's so hideous, of course you would never want to say his name. And if you do, you'll end up just as lazy as he is. Never say ain't!

Clips from White Christmas on YouTube


White Christmas is a yearly tradition for me - a must for Christmas Eve night. And while I am firm in my belief that it is near blasphemy to watch it any other time, I've decided that the odd viewing of one or two of the especially good dance number is alright :) The above video is my favourite dance from the movie, though not my favourite really obvious example of how freakishly thin the one main girl is :\